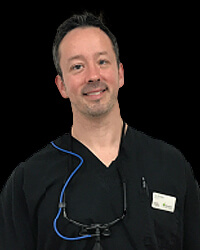 Dr Ian Bowles
BChD, MFGDP, Dip.Rest.Dent.RCS (Eng)
MSc Endo (Distinction) KCL
Special Interest Dentist in Endodontics and Restorative Dentistry.
Dr Ian Bowles is a dentist with a Special Interest in Endodontics and Restorative Dentistry. In 2010 Ian completed the FGDP Diploma in Restorative Dentistry and 2017 saw him complete his studies for the MSc in Endodontics at King's College London. Ian accepts referrals for Endodontics from his colleagues at Elbow Lane Dental Practice and is now able to offer this service to other practices should they wish.
Ian undertakes all Endodontic treatment using a dental operating microscope. Treatment usually takes place after an initial consultation with the patient and would take one to two visits depending on complexity and level of infection. The patient would be referred back to their dentist for the provision of a new indirect restoration although these can be completed by Ian, but only at the referring dentist's request. The only exception is the placing of posts. If required, Ian will usually complete this stage as it completes the sealing of the root canal system.
Advice over phone or email no charge
Consult 30 mins £75
Primary Endodontic treatment £650
Repeat Endodontic treatment £750
Post removal, perforation repair £175
Cast post/core & temporary crown £225
Removal of separated instrument assessed case by case
Surgical endodontics is priced on a case-by case basis as outcomes are much improved by first repeating the non-surgical endodontic treatment.
Please note that when undertaking Endodontic treatment, Ian will remove the existing direct or indirect restoration unless specifically requested not to do so by the referring dentist. This is done to check for caries and/or cracks and is essential in assessing the restorability of the tooth (Abbott et al.2004). The necessity of this action and its financial implication will of course be discussed with the patient.
Where required, Ian will usually undertake the placing of posts and therefore the responsibility for the coronal seal.